For news from previous years, please see our news archives for 2015, 2016, and 2017.
Spiritual Retreat – 25th February 2018
A spiritual retreat was held on Sunday, the 25th February 2018 at Sri Sarada Math, Bengaluru from 9.15 am to 12.30 pm. The retreat started with Vedic chanting by Sannyasinis, reading of Daily thoughts & Prayers and a few miutes of meditation. Pravrajika Gitaprana welcomed the main speakers of the day, the sannyasinis and the audience. She also expressed her gratitude for accepting the invitation and their participation in the programme. 'Sri Ramakrishna Satsanga' sang stotras and bhajans for half an hour.
Dr. Asha Srinivasan, Asst. Professor, Nanoscience and Nanotechnology, JSS University, Mysore, spoke in English on 'Swamiji – A Movement'. Pravrajika Yogatmaprana spoke on 'Pravrajika Bharatiprana Mataji – The First President Of Sri Sarada Math, Dakshineswar, Kolkata'. She briefly narrated her life and teachings in Kannada. Lastly, Pravrajika Atandraprana Mataji, Asst. Secretary, Sri Sarada Math & Ramakrishna Mission, Dakshineshwar, Kolkata, spoke on 'The Significance Of The Present Yugavatara Sri Ramakrishna' in English. This was well received by the audience and helped them to develop a deep understanding.
The programme ended with a devotional song by Dr. Asha Srinivasan. Lunch was served to all. About 90 devotees attended the retreat.
The lectures by Rev. Atandaprana Mataji and Dr. Asha Srinivasan can be found on the Lectures page.
---
Sri Ramakrishna's Birthday – 17th February 2018
The birthday of Sri Ramakrishna was celebrated on Saturday, 17th February 2018, at Sri Sarada Math, Bengaluru with special puja, homa, chanting of Vishnu Sahasranam and Bhajans by devotees. Dr.Sarojini, Dermatologist who renders voluntary service to Sri Ramakrishna Math and Sri Sarada Math spoke on Sri Ramakrishna's contribution to upliftment of women, narrating briefly from the lives of Sri Ramakrishna's women disciples such as Gopaler Maa, Golap Maa, Jogin Maa and others. Pravrajika Gitaprana read The Gospel of Sri Ramakrishna. It was followed by Bhogarathi and distribution of prasad. About 225 people attended the celebration.
---
Spiritual Retreat – 3rd February 2018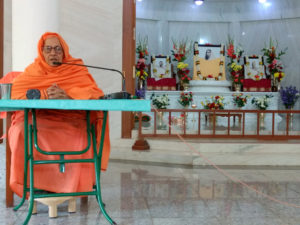 A spiritual retreat was held on Saturday, the 3rd February 2018. The retreat started with the chanting of Lalita Sahasranama, reading from Daily Thoughts and Prayers and Japa. Most Rev. Jnanadaprana Mataji, Asst.Secretary of Sri Sarada Math and Ramakrishna Sarada Mission delivered a lecture on "Holy Mother and Sister Nivedita". Lunch was served to all. About 70 people attended the programme.
The lecture by Rev. Jnanadaprana Mataji can be found on the Lectures page.
---
National Youth Day – 13th January 2018
Swami Vivekananda, a Cultural and Spiritual Ambassador of India, inspired youth all over the country to build a strong and healthy India. National Youth Day is celebrated in India on 12th January every year coinciding with the birthday of Swami Vivekananda. In 1984, the Government of India declared the day as the National Youth Day.Sri Sarada Math, Bengaluru, celebrated National Youth Day on 13th January 2018. About 500 Students from 19 schools and colleges took part in the celebration. The day began with registration of students followed by breakfast. After narrating the significance of this day, a procession started. The procession went around the Jayamahal area surrounding the Math along with a chariot of Swami Vivekananda. Students participated enthusiastically in the procession with some of the students preparing their own placards with Swamij's sayings. Trophies were given to school children for the 'Best Slogan', 'Orderliness' and 'Attire'. For College students, trophies were given for 'Orderliness' and 'Best Slogan'. An overall prize was given for the School and College with the best performance in the procession.
Elocution competitions were held for school students on the topic 'Which aspect of Swami Vivekananda's teachings you like the most and why?' and for College students on the topic 'Power of Concentration as espoused by Swami Vivekananda'. 31 students participated in Elocution Competitions. Dr.V.Anuradha, Associate Professor, Dept. of History, Maharani's Arts College for Women, Bangalore inspired the students on their topic of Elocution through her speech. Prize winners were given a certificate and books on Swami Vivekananda. Each student and the Institution were given a 'Participation Certificate' and a complimentary Kannada book entitled 'Vishwavarenya Vivekananda'.
In between the school and college competitions, the participants were entertained by small children of Nivedita Vidyapeetha with programmes such as a drama from Swami Vivekananda's lecture on Karma Yoga depicting how each one is great in their ideal, a monk or householder in English. Kids of "Nretyalaya" of Sri Ram Sadan Apartment, Gokula, Mettikere, under the guidance of Smt. Kshama, performed a beautiful and touching skit on Sister Nivedita which was appreciated by all. Lastly, the children of Nivedita Vidyapeetha gave a good performance of "Yogasana".
Lunch was served to all. Several alumni of Nivedita Vidyapeetha and Math volunteers helped in making the programme a grand success.
---
Swami Vivekananda's Birthday – 8th January 2018
The birthday of Srimat Swami Vivekananda was celebrated at Sri Sarada Math, Bengaluru on Monday, 8th January 2018 with due solemnity. There were various programmes throughout the day such as Vedic Chanting, Special puja & homa, Kathopanishad chanting by the sannyasinis, bhajans by devotees and discourse on "Swamiji's approach towards way of life by " by Dr.Bhargavi, Director, P.G. Dept., of Commerce, Sheshadripuram College, Bangalore, teaching organizational behaviour & Human Resources Management & Business skills. After Bhogarati, Prasad distribution took place. During the whole day, about 200 people attended the programme.
---