Sep
21
Fri
Most Rev. Ajayaprana Mataji's visit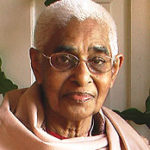 Most Revered Ajayaprana Mataji, Vice President of Sri Sarada Math & Ramakrishna Sarada Mission will be arriving at Bangalore on Friday, the 21st of September and will be leaving on 24th September 2018.
She will give darshan from 10am to 11am in the morning and 5pm to 6pm in the evening.
On Sunday, 23rd September, Rev.Mataji will initiate spiritual seekers. Those who are interested to receive Diksha, are requested to contact the office for further details.
Oct
6
Sat
Youth Convention
Oct 6 @ 9:00 am – 3:00 pm
We are happy to inform you that 150th birth anniversary of Sister Nivedita, the dedicated disciple of Swami  Vivekananda is being celebrated all over the world from 2016 to 2018. Sister Nivedita sacrificed her country and life for the service of India.
As a part of that celebration Sri Sarada Math, Bangalore is conducting a Youth Convention at Sri Sarada Math premises for girl students of PUC & Degree courses on Saturday, the 6th October 2018 from morning 10 am to afternoon 3pm with a one hour interval from 12pm to 1pm.
Programme:
Morning:
9.00 am: Registration
9.30 am: Vedic Chanting & Welcome Address
9.45am – 10.30am:    Address by Most Rev. Amalaprana Mataji, General Secretary,
Sri Sarada Math & Ramakrishna Sarada Mission, Dakshineswar, Kolkata -700 076.
Topic: "Sister Nivedita – the Dedicated"
10.30am – 11.15am: Speech by Dr. Asha Srinivasan,
Asst. Professor, Nano science & Nanotechnology,
JSS Academy of Higher Education & Research, Mysore.
Topic: "Relevance of Sister Nivedita's Life and Ideals in the present circumstance."
11.15am – 12.00pm: Questions and Answers
Afternoon:
12.00pm – 1.00pm:     Lunch
1.00pm – 2.00pm:      Cultural Programme
2.00pm – 3.00pm:     Panel Discussion: Moderator Dr. Bhargavi
Director, P.G. Dept., of Commerce,  Sheshadripuram College, Bangalore.
Topic: "Vajra the Symbol of unselfishness   – How to adopt it in daily life."
3.00pm: Vote of Thanks & Vande Mataram