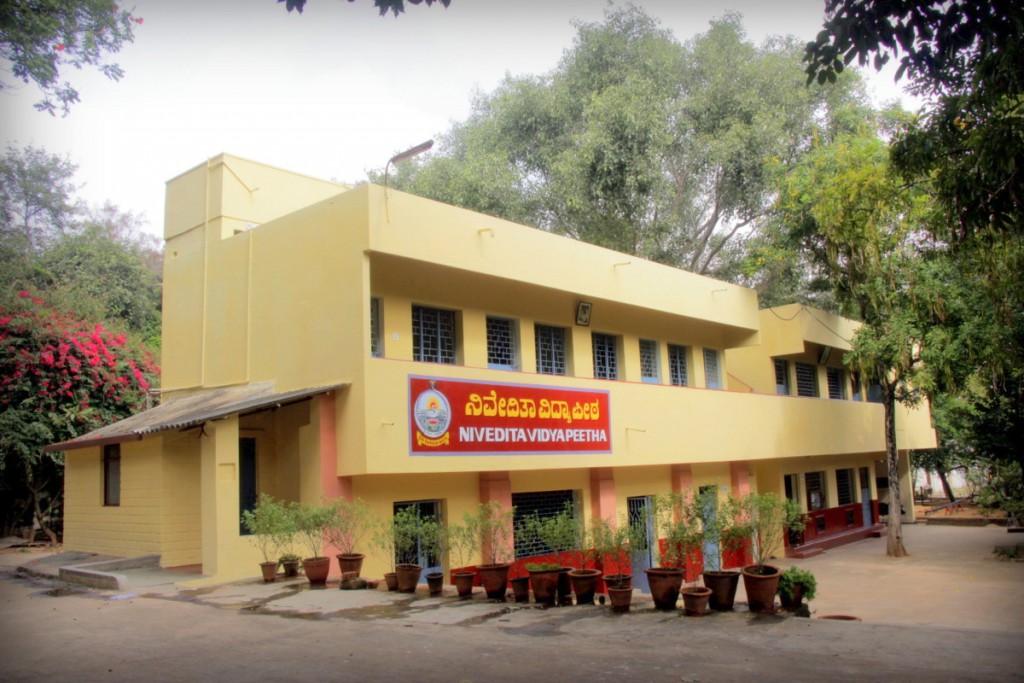 Nivedita Vidya Peetha, a non-formal and free school for economically backward children, was established in 1982 at the behest of Most Rev.Muktiprana Mataji, the then General Secretary of Sri Sarada Math. The school is located in the Math premises and conducts classes from LKG to 5th standard. It is being run solely on donations from devotees and well wishers. Since its establishment, numerous economically backward children have been benefitted. The goal of the school is to enable the children to stand on their own feet. The students are provided with free breakfast, midday meals, uniforms, text books and other school supplies. Students desirous of continuing their studies beyond 5th standard are admitted into other schools of the formal stream of education and the Math continues to fund their educational expenses till they complete their 10th standard. For deserving students, the center provides scholarships to pursue further education. Graduates of the school have entered various professions like engineering, information technology and teaching.
All round development of the children is emphasized at the school. Raising the children to be confident, free-thinking, ethical and responsible citizens is an important aspect of the education provided here. Physical, mental, ethical, cultural and spiritual development all go hand in hand. Being located in the Math premises, the school provides a serene and spiritual atmosphere for children to pursue their education. Regular interaction with the members of the Math provides them with an insight on how to mould their lives according to spiritual principles. Prayers, chanting of Hanuman Chalisa and Aditya Hridaya form a part of their daily routine.The children are responsible for cleaning the school and maintaining the school garden. This makes them aware of cleanliness and inculcates a sense of responsibility in them. Regular yoga and physical fitness classes are also held. A small playground provides opportunity for the kids to play outdoor and have fun. Computer classes are held for fourth and fifth standard students where they are taught basic computer skills.
Balmandir classes are held on Saturdays for Nivedita Vidya Peetha students. The Balmandir classes provide moral and spiritual education. Moral stories, Upanishadic and vedic chanting, Bhagavad Gita, Vishnu sahasranama and Lalita sahasranama form a part of the Balmandir activities. The children are taught bhajans and classical dance forms like Bharatnatyam by experienced teachers. Once a month, satsang is conducted for the mothers where they imbibe spiritual values.
Apart from the regular curriculum, the school observes significant days like Independence Day and Republic Day.  Annual day and Sports Day are held every year to showcase the children's talents. Ganesh Chaturthi and Saraswati Puja are celebrated with great pomp. All the children participate with great joy and enthusiasm in these celebrations.During Ganesh Chatruthi, an idol is brought and worshipped. The idol is later immersed in a beautiful pond within the Math precincts itself. During Saraswati Puja, Children chant mantras and perform ritualistic worship of Goddess Saraswati.
The National Youth Day is observed every year on the 12th of January. Students from various schools and colleges are invited. Swami Vivekananda is taken out in a procession in the nearby areas. This is followed by a program consisting of quiz, debates, discussions etc. on Swami Vivekananda's teachings. These activities have received very good response. The students are given prizes for encouragement and all the participants are sumptuously fed.
The children are taken for an educational tour every year. The school also encourages them to participate in debate, drawing, painting, rangoli, singing and gita chanting competitions, conducted by other organizations. This provides them an opportunity to expand their horizons and interact with people outside their neighborhood.