Sep
21
Fri
Most Rev. Ajayaprana Mataji's visit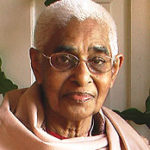 Most Revered Ajayaprana Mataji, Vice President of Sri Sarada Math & Ramakrishna Sarada Mission will be arriving at Bangalore on Friday, the 21st of September and will be leaving on 24th September 2018.
She will give darshan from 10am to 11am in the morning and 5pm to 6pm in the evening.
On Sunday, 23rd September, Rev.Mataji will initiate spiritual seekers. Those who are interested to receive Diksha, are requested to contact the office for further details.