When:
January 27, 2018 – February 4, 2018
all-day
2018-01-27T00:00:00+05:30
2018-02-05T00:00:00+05:30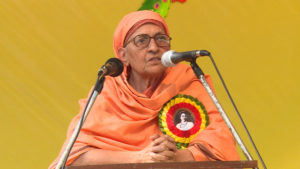 Most Rev.Jnanadaprana Mataji, Asst.Secretary of Sri Sarada Math and Ramakrishna Sarada Mission, will be coming to Bengaluru on Saturday, the 27th January 2018 and will be leaving to Trivandrum on 4 th February 2018. She will be presiding over the Annual function of Nivedita Vidyapeetha of Junjaramanahalli on Monday, the 29th  January and will be returning to Bengaluru on the next day.
A spiritual retreat will be held on Saturday, the 3rd February 2018.
She will address the devotees on "Holy Mother and Sister Nivedita".
Programme:
 9:30 am – 10:00 am   :   Lalita Sahasranama Chanting
10:00 am – 10:15 am   :   Reading from Daily Thoughts and Prayers followed by Japa.
10:15 am – 11:15 am     :   Rev. Jnanadaprana Mataji address the devotees.
11:15 am – 11:30 am     : Question and Answers
11:30 am – 12:00 noon : Bhajans followed by Prasad Distribution.
Note: Participants should register their names in the office before 31st  January, 2018.